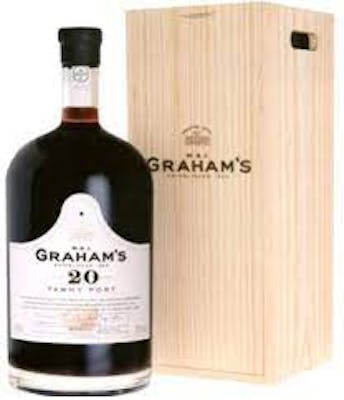 SKU: 12655
W&J Graham's GRAHAMS 20 YEAR PORT 20 year old
---
$450.00
Save $115.12 (26%)
$334.88
---
Graham's 20 Years Old Tawny is the result of the Master Blender's quest for the perfect balance between young and aged Port wines. This is a Port wine perfected over twenty years to delight those in pursuit of excellence. Amber, golden tawny color. Excellent bouquet; with a characteristically nutty character and delicious mature fruit; hints of orange peel; exquisitely mellowed by careful ageing. The palate is rich, softly sweet and smooth; perfectly balanced with a long and elegant finish. Pairs extremely well with nuts, dried fruits and fruitcake, as well as vanilla ice cream and crème brûlée. Serve slightly chilled.
Tawny Port is always exciting, but if you can afford to splash out, go for a 20 Year Old. All the major houses make wonderful aged tawnies and this is always one of the best. Ethereal and mellow on the palate, it boasts flavours of toffee and caramel, burnt orange and raisins, dried plums, hazelnuts and a savoury hint of mushroom on the finish. Wonderful stuff!
A gorgeous tawny with dried figs, caramel, dried raisins and coffee beans. Full-bodied, sweet and delicious. This shows such length and beauty. I love the crème caramel and cooked apple tart on the finish. Some pecan pie. Crazy. Drink now.
Lovely, with date and persimmon notes that are melded seamlessly, picking up light bitter orange, ginger and green tea accents along the way. Echoes of sweet golden raisin and hazelnut linger on the finish, which is polished and long. A beauty. Drink now.
This is a hugely dry, burnt style, very concentrated. The licorice and bitter coffee flavors are dense, layered and well balanced with the acidity. A serious wine that demands attention.
The 20-Year Old Tawny from Graham's has a lifted grilled walnut, mandarin and clove-scented bouquet that blossoms in the glass. The palate is very harmonious and smooth in texture, offering orange rind, marmalade and chestnut. I like the bitter edge that develops towards the finish and the stem ginger that lingers on the aftertaste. My only quibble is just a slight lack of persistence, but otherwise this is a satisfying Tawny Port, on this occasion rather outclassed by Dow's equivalent. Tasted at the Symington Tawny Port tasting at the Tower of London.

Are you 21 years old, or older?