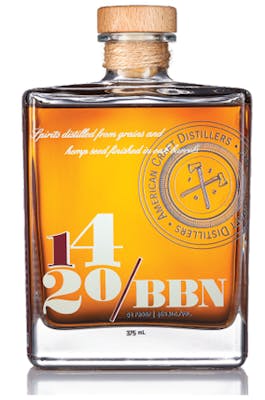 SKU: 09387
SoNo 1420 BBN Bourbon
---
---
SoNo 1420 is proud to be the first - and as far as we know - the only distillery in the world that has incorporated hemp seed into a whiskey mash bill . The result - some of the best tasting - and arguably the most intriguing - spirits ever.
1420 BBN - DISTILLED FROM GRAINS AND HEMP SEED AND FINISHED IN OAK BARRELS
While most people would call this Bourbon, the federal government won't let us because it contains hemp seed. As a result, we must call it a "1420 BBN - Spirit Distilled from Grains and Hemp Seed and Finished in Oak Barrels". Our mash bill, like many whiskeys, is comprised of 75% corn, 15% rye, and 10% milled hemp seed. The nose on this spirit is unexpected, considering the mash bill – light and floral, suggestive of honeysuckle with hints of dried fruit, particularly cherries. On the palate, all the vanilla, cinnamon, and honey expected of a bourbon whiskey are present but, instead of trailing off into the usual extended, syrupy butterscotch-caramel finish, the journey continues down towards some interesting, nutty-flavor characteristics – another contribution of the ground hemp seed. Roll the whiskey over your tongue and chase the flavors down the rabbit hole.

Are you 21 years old, or older?