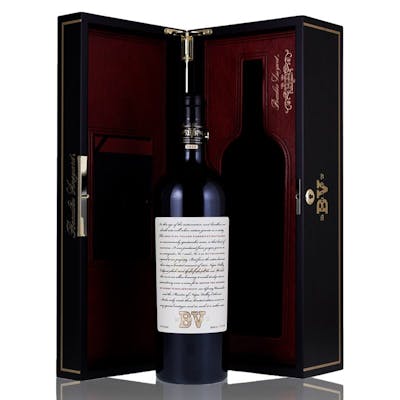 SKU: 07561
Beaulieu Vineyard Rarity Numbered Magnum 2016
---
$2,000.00
Save $501.00 (25%)
$1,499.00
---
Inspiration for our Beaulieu Vineyard Rarities collection comes from the legacy of a special wine
that legendary winemaker, André Tchelistcheff, first crafted in 1968, to show the distinctive,
opulent expression of an extraordinarily high-quality vintage. Only four times since the
inaugural release has a wine received such an honor at Beaulieu Vineyard, and the 2016 vintage
revealed that time has come again.
TASTING NOTES
A perfect example of "an iron fist in a velvet glove", the Beaulieu Vineyard 2016 Rarity delivers
incredible power and weight, combining finesse, elegance and rich supple texture into one
extraordinary Cabernet Sauvignon. Bursting with dark blackberry and cassis on the nose,
elements of roast coffee come through on the palate with dense flavors of blackcurrant and
cassis, alongside notes of anise, dark chocolate and crushed violets. Fully integrated "Rutherford
Dust" tannins go on infinitely, while bright acidity keeps purity of fruit the focus. Seamlessly
integrated vanilla and oak spice nuances, from barrel fermentation and aging in entirely new
barrels, add even more complexity to the layered Cabernet Sauvignon expression. This
showstopper finishes with grace and complexity, leaving everlasting flavors of blackberry and
sarsaparilla on the finish. A timeless wine, cellar-worthy for decades.
VINTAGE
Considered a perfect harvest and a winemaker's dream vintage, conditions were optimal for
producing a Cabernet Sauvignon with beautiful fruit, tremendous concentration of flavors, highly
saturated color, and layers of complexity. After a relatively dry January we enjoyed significant
rainfall in February and ideal conditions prevailed through bud break. While still early by
historical standards, picking began about a week later than 2015, and continued at a leisurely
pace, allowing the grapes to reach full flavor maturity. A traditionally sized harvest followed the
lighter showing of 2015, and the extended mild season helped to balance the acids and add
complexity to the layers of flavors..
VINEYARDS
The powerful, complex character of 2016 Rarity comes from our finest barrel-lots of Cabernet
Sauvignon and Petit Verdot, selected from our oldest vines predominantly from two iconic
vineyard locations: BV Ranches No. 1 and 2. A small amount of the blend also comes from our
Hewitt Estate Vineyard, a component to our finest Cabernet Sauvignons for more than 50 years.
All the vineyards are deeply rooted in well-draining, alluvial fan soils on the western bench-lands
of Napa Valley's Rutherford AVA, which provides excellent drainage, while long daily sun
exposure, tempered by cool nights, fosters perfect grape maturity.
WINEMAKING
At our state-of-the-art winery, dedicated exclusively to crafting of our reserve wines, we
optically sorted the gently destemmed grape berries to retain only the highest quality fruit. For
early integration of oak character and to enhance the supple mouthfeel, over half of the Rarity
components were barrel-fermented, with the balance in stainless steel and concrete tanks. During
fermentation, our winemaking team rotated the barrels four times per day to build complexity.
After maceration followed by gentle pressing, we returned the wine to barrels for malolactic
fermentation and aging. To balance the tremendous intensity of dark fruit character, we chose to
age this wine in 100 percent new French oak barrels. We complemented the blend with five
percent Petit Verdot from BV Ranch No.1 to add more structure and layers of flavor. Winemaker
Trevor Durling and Assistant Winemaker Megan Twitchell blended the wine components in
January 2018, giving the wine plenty of time to marry before bottling in late summer of that year.