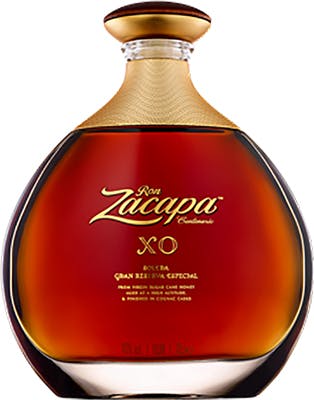 SKU: 13702
Ron Zacapa XO Rum
---
---
Containing a blend of rums from 6 to 25 years old, with an extra ageing stage in French oak barrels that previously held cognac. A perfectly balanced combination of sweetness, spice, fruit and spirit, a connoisseur's delight and the ultimate expression of the Master Blender's art. Mahogany with intense red hints of long barrel ageing at the rim and long, slow legs.
Ron Zacapa Rums are made from sugar cane harvested in southern Guatemala, which is pressed into virgin sugar cane honey, a process unique to the Guatemalan style of rum production. This liquid is then fermented, distilled and taken to the mountains for aging, where the flavor of the rums is further refined through the premium aging process known as Sistema Solera.
The Ron Zacapa Centenario XO is blended from these solera aged stocks which range in age from 6 years to 25 years. These stocks were aged in special cellars more than 7,000 feet above sea level. The solera barrels are a mixture of reused American Bourbon, Sherry, Pedro Ximenez wines, and Cognac barrels. The combination of solera aging and the wide variety of reused barrels creates a highly complex rum with a rich aroma and flavor.

Are you 21 years old, or older?