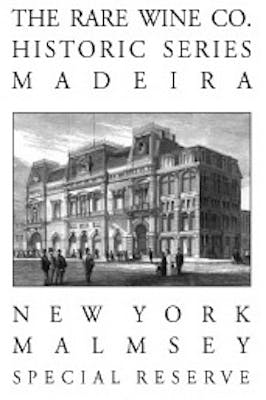 SKU: 11418
Rare Wine Company Historic Series New York Malmsey Special Reserve Madeira
---
$54.99
Save $10.07 (18%)
$44.92
---
A shade darker than the Boal, this Malmsey offers the chocolatey aromatic depth that makes you think of a Malmsey nearing the half-century mark. The palate is quite sweet, and very rich and lush, with just enough acidity to provide focus and precision, and to balance and sweetness. Absolutely delicious and a treat for sweet wine lovers.
"In 1998, The Rare Wine Company began a project to create a series of Madeiras unprecedented in the marketplace: moderately priced wines with the aromatic fingerprint and quintessential texture and flavors of far more expensive vintage Madeiras.
It took years of work, but in 2003, they began releasing the wines which are named in honor of American cities with strong ties to Madeira. New York Malmsey, Boston Boal, and Charleston Sercial all eerily resemble vintage Madeiras -- thanks to the inclusion of wines ranging in age from 30 to 60 years old in the blends. Working with Vinhos Barbeito, which possesses one of the great libraries of legendary 19th century Madeiras, each wine represents a style of Madeira popular in the cities they're named after." - Distributor Notes
The sweetest and richest in the Historic series, the New York Malmsey unfolds slowly in the glass, gradually revealing layers of depth and flavor. Coffee, toffee and date notes emerge, followed by earthy, almost truffley flavors. Powerful and assertive on the long finish.
"Medium amber. Powerfully scented bouquet combines cherry compote, cola, molasses, pipe tobacco and brown sugar. Lush and expansive in the mouth, offering sweet pit fruit and orange marmalade flavors and a deeper note of espresso. Clings tenaciously on the finish, which leaves notes of bitter cherry and candied flowers behind."~Josh Reynolds