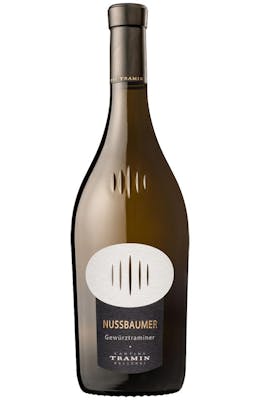 SKU: 11181
Tramin Nussbaumer Gewürztraminer 2020
---
$44.99
Save $14.11 (31%)
$30.88
---
Winemaker Notes
A kaleidoscope of aromas including rose petals, spicy blossoms of lilies, ylang-ylang, gardenia; ripe exotic yellow fruits such as cantaloupe, mango, passion fruit, lychee, citrus zest; spicy notes of dried herbs, ginger, saffron, cloves, cinnamon and nutmeg. Deeply aromatic, rich in body and essences, but with fine juiciness and salty minerality increasing with age, a nearly endless finish.
Nussbaumer is a truly fascinating food companion. It pairs well with antipasti of fish or smoked foods, ripe soft cheese, white meat, swordfish or tuna; ideal with shellfish and seafood, spectacular accompaniment to spicy Asian cuisine and creative spicy/aromatic creations such as combinations with mushrooms, Swiss chard, fennel, avocado, savoy cabbage, galangal, ginger, oranges, apricots, jams and fresh herbs like tarragon, rosemary, dill, thyme, bay laurel, chervil, saffron, mint or lemongrass which offer a wild interplay of aromas.
Pouring from the bottle with a mildly saturated golden hue, the Cantina Tramin 2019 Alto Adige Gewürztraminer Nussbaumer is an almost full-bodied expression. The wine carries extra fruit weight that appears smooth and rich to the palate. It also offers elaborate aromas of fragrant summer flower and peach blossom. There is some heaviness on the finish, but it is washed away by the wine's significant persistence and freshness. This would be great with a butternut squash ravioli. About 65,000 bottles were made.
Very ripe tropical-fruit nose with hints of turkish delight, smoked bacon and sandalwood. Powerful with a lot of textural complexity, but no hint of bombast. Indeed, the bitter side of this grape is very well integrated in the rich, mellow palate. Drink or hold.