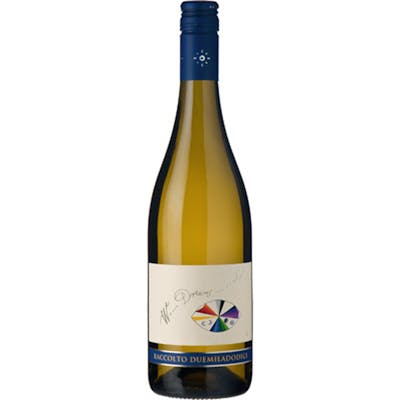 SKU: 11156
Jermann Dreams 2021
---
---
Venezia-Giulia, Italy- This pure varietal not only expresses the noble grape to the full, its character, flavors and aromas appear to shine through in focused intensity. Silvio's magic combines with that of Friulian soil to elicit every Chardonnay nuance in well balanced elegance.
Dedicated to U2's "The Joshua Tree" album (1987) and specifically to the song "Where the streets have no name", this wine was created with the 1987 harvest and over the years its name had some variations. For its first nine years it was called "Where the Dreams have no end..." and the colour of the capsule changed every vintage, cycling through the seven colours of the iris (plus white and black) on the label, beginning with white and progressing anticlockwise; the four phases of the moon were also shown. In 1996 it became "Were Dreams, now it is just wine!" with a blue capsule bearing a stylised Comet Hale-Bopp. It continued in this livery for seven years, then in 2003 we returned somewhat to our roots with: "W…Dreams…" adding the year of harvest below and drawing Mars on the capsule. The dot-dot-dot in the name gave everyone room for a personal interpretation, ours was "Where Dreams can happen". Finally in 2015 we have changed again the label, going back to the first 'edition': "Where Dreams have no end…" Since the vintage 2011 (for the 25th anniversary of this wine) the whole production is with screw cap closure. This choice was obligatory: the screw cap is the guarantee, especially for important wines, to preserve the quality that we create day by day, first in vineyard and then in the cellar. Interesting fact: The "Where the Dreams have no end..." label was used in the hit Disney film "The Parent Trap" (1998), directed by Nancy Meyers and starring Natasha Richardson, Dennis Quaid and Lindsay Lohan (twice, playing twins).
This is always a very complex and complete white with cooked apples, pears, light lemon curd and vanilla. Hints of minerals. It's full-bodied with a round, delicious palate. Beautiful, ripe fruit and length. Drinkable now, but better in 2022 and onwards. Screw cap.
Made predominantly with Chardonnay, this has aromas of French oak, ripe yellow apple and butterscotch. The aromas carry on to the elegant palate along with grapefruit and toasted hazelnut while fresh acidity keeps it balanced.
A well-cut, medium-bodied and fragrant white, offering a fine range of yellow apple and pear fruit, chopped hazelnut, lime blossom, flint and spice. A streak of tangy salinity drives the finish. Chardonnay. Drink now through 2027. 217 cases made, 217 cases imported.
The 2019 Dreams opens with an extroverted display of crushed oyster giving way to vanilla custard, hints of curry leaf and citrus-tinged peach. This is a silky and pliant effort with mineral-infused orchard fruits and savory spice, yet I find myself craving more depth. It tapers off lightly structured, leaving lemon oils and a salty flourish. Frankly, I was expecting more from this varietal Chardonnay, especially from the 2019 vintage.

Are you 21 years old, or older?