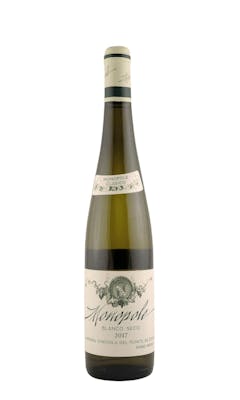 SKU: 10209
Cune Monopole Clásico 2018
---
---
This is Cvne's throwback to an ancient style: they make a traditional white Rioja and fortify it with a touch of Manzanilla sherry — an age-old trick to preserve the wine and make it taste (or so they thought, back in the day) more like Burgundy.
Although it doesn't taste like Burgundy to us, it is amazing: cool, mountain spring freshness meets brisk minerality and an ocean-breeze salinity. The fruit is reminiscent of green pear and fresh lemon, with a long finish. A serious, genre-defining white wine and a major Flatiron Wines favorite!
This is so much fun and one of my favorite whites from Spain. Medium to full body. Nutty and creamy with ripe peach and pine, but always the light, Sherry-cask undertone. Honey and dried fruit at the end. Drink now
Light, bright yellow. A complex, penetrating bouquet evokes dried pear, lemon pith, beeswax, salted nuts and chamomile. Chewy and broad on the palate, offering intense Meyer lemon, pear, membrillo and honeysuckle flavors and a hint of toasted almond. The salty note drives an impressively long, focused finish that echoes the pear, salt and floral notes.
The second vintage of the recovered traditional white, the 2015 Monopole Clásico is Viura with a good dollop of Manzanilla Sherry from Sanlúcar that adds biological notes and hints of nuts and spices. 2015 is the best vintage in recent years, with good quality and quantity, quite homogeneous wines from an early harvest. This wine matured in well-seasoned, neutral 300-, 400- and 500-liter oak barrels for eight months and was then blended with the Manzanilla. This is the way Monopole was always produced decades ago. CVNE's classical winemaker, Ezequiel García "El Brujo," died in August 2017, and they added a black band on a corner of the label as an homage to him. It's quite lean and at first you don't notice the biological aromas much; in wines like this that character tends to grow with time in bottle, and it does appear with time in the glass as the wine breathes. It's subtle and with some sharpness and chalky sensations on the palate, very tasty and long. This should develop nicely in bottle. 30,000 bottles produced. It was bottled in July 2017.
#83 ENTHUSIAST 100 2020. Aromas of lightly oxidized and stalky white fruits open this white Rioja. A full and complex palate is supported by core acidity, while this Viura based classic tastes salty and woody, with apple, leesy yeast and dry oak notes driving a smooth finish. This contains some Manzanilla Sherry in an ode to how the wine was made 75 years ago. Drink through 2024.
An elegant white, with poached pear and peach flavors interwoven with coconut, almond and spice notes, all backed by nicely integrated acidity. The briny finish shows a hint of walnut. Drink now through 2024.

Are you 21 years old, or older?