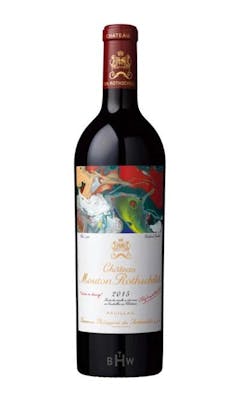 SKU: 09794
Château Mouton Rothschild Pauillac 2015
js

99

jd

99

we

98

d

98

wa

98

v

97+

ws

96
---
$999.00
Save $304.89 (31%)
$694.11
---
The wine has an attractive, deep and dark colour with a purple tint. The refined and elegant nose reveals fruity wild blackberry and bilberry aromas. Notes of toast , licorice and blond tobacco the emerge to fill out a rich and complex range of aromas. The fresh, full-bodied and slightly saline attack shows great intensity, opening on smooth and creamy tannins which enfold a silky texture lifted by a touch of minerality. The impression on the palate is very full, rich in ripe fruit and peppery spice flavours. An exceptionally long finish concludes a remarkably balanced wine.
Decadent and rich aromas of black cherries and plums with wet earth and sandalwood. Turns to dried mushrooms. Full-bodied, tight and closed with big, polished tannins, yet this is very closed and shy right now. Despite this, underneath it shows such depth and beauty. Tangy acidity. This is a combination of 2005 and 2009. Try it in 2024. (2/2/18)
The crème de la crème from the northern Médoc is the 2015 Mouton Rothschild and this incredible wine flirts with perfection. Made from 82% Cabernet Sauvignon, 16% Merlot, and 3% Petit Verdot, this inky purple-colored effort offers sensational Cabernet flare in its crème de cassis, graphite, lead pencil shavings, floral, and Asian spice aromas and flavors. It is full-bodied, dense, and incredibly concentrated, yet still has the sexy, opulent, seductive style of the vintage front and center. It will be a candidate for perfection in 10-12 years and is going to be one of the longest-lived wines in the vintage. Hats off to Philippe Dhalluim and his team for this incredible effort that's a step up over just about every other northern Médoc out there! Drink: 2023-2063. (11/30/17)
'Cellar Selection,' Wine Enthusiast: "This is a hugely opulent wine, packed withblack fruits, rich tannins and great concentration. It is a gorgeous wine that's full of potential, with the dense, dark core showing how well this wine will age. Drink this complex wine from 2027. Alcohol 14%. (Apr 2018)"
Gorgeously confident and rich in colour, you can see the silkiness in the glass from the first look. This has 11% press wine, which tells you how good the skins were and how gently they extract at first. Winemaker Philippe Dhalluin and team have really succeeded in this vintage. It is beautifully integrated, and full of verve and sexiness, just stopping short of swagger. It approaches the heights of 2015 in the most successful appellations and will age well. Bottled in June, with zero oxygen added at bottling and just 25 ppm of SO2. Drinking Window 2025 - 2045.
The 2015 Mouton Rothschild is a blend of 82% Cabernet Sauvignon, 16% Merlot and 2% Cabernet Franc aged in 100% new oak with a mid-July 2017 bottling. Deep garnet-purple colored, this Mouton pulls off an incredibly impactful entrance, emerging from the glass with profound notes of blackberry preserves, plum pudding, crème de cassis and grilled meats, featuring perfectly accessorized accents of sandalwood, cinnamon stick and fenugreek with wafts of dried roses, unsmoked cigars and tilled soil. Medium to full-bodied, the palate is completely packed with rich, ripe black fruits sparked with blue and red fruit undertones and an incredible structure of very firm, very ripe tannins, with seamless freshness and an epically long, earth-laced finish. Possessing striking natural beauty framed by impeccable crafting, this 2015 is a total diva and well worth attention. Give it a good 7-8 years in bottle, at least, and drink it over the next 30+ years. Drink: 2025-2055.
"In 2015, Mouton Rothschild is fabulous. A big, towering wine, the 2015 makes its presence felt with layers of super-ripe dense fruit and striking textural resonance that carries all the way through to the finish. The 2015 is much more reticent from bottle than it was from barrel, which is not at all surprising, but is something readers should take into account. Even with all of its obvious intensity, the 2015 Mouton is a wine of classically inspired proportions. I can't wait to taste it in another 15-20 years. The 2015 is 82% Cabernet Sauvignon, 16% Merlot and 2% Cabernet Franc that spend 19 months in 100% new French oak. Drink: 2025-2055. (Feb 2018)"
Offers a prodigious core of steeped fig, black currant and blackberry compote flavors, enmeshed with notes of smoldering tobacco, charcoal and licorice. Broad, deep and long, with a deep foundation of graphite through the finish. Despite the heft, this manages to show off some purity too. Best from 2025 through 2045.

Are you 21 years old, or older?