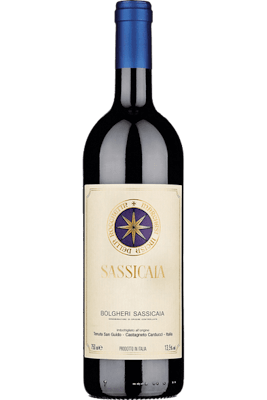 SKU: 08621
Tenuta San Guido SASSICAIA SUPER TUSCAN 2017
---
Unavailable
We're sorry, but this product is not currently available.
---
Sassicaia means "the place of many stones," and refers to the region's gravel soil. The original vineyards have a southwest exposure with extensive sun and maritime breezes that create robust vegetation. Grapes are handpicked, destemmed and crushed before fermenting with natural yeasts in temperature-controlled stainless steel tanks. The wine is aged in French oak barriques, then refined in bottle before release. Sassicaia's success prompted the Italian government to grant the wine its own appellation, Bolgheri Sassicaia DOC, beginning with the 1994 vintage.
Points, Aldo Fiordelli, Decanter: "The 2017 vintage for Sassicaia was described by winemaking consultant Graziana Grassini as 'contracted and difficult, but it evolved impressively well with great strides during the oak ageing'. The wine shows a great intensity and elegance on the super-restrained nose of bramble fruit, layered with cedar, kiwi peel and a touch of oak. Surprisingly velvety, silky tannins and brilliant acidity are supported by creamy mid-palate weight with an amazingly savoury finish of cedar and tobacco." 06/20
Points, Kerin O'Keefe, Wine Enthusiast:[Cellar Selection] "Aromas of exotic spice, baked plum and French oak mingle with camphor and blue flower on the nose. This boasts extraordinary elegance and freshness despite the hot vintage, delivering flavors of juicy Marasca cherry, spiced blueberry, tobacco and licorice. Velvety, fine-grained tannins provide support while coffee and crushed mint linger on the finish. Drink 2022-2032." 07/20
Points, James Suckling, www.jamessuckling.com: The balance and beauty to this is impressive, offering sweet, ripe currants and flowers with some crushed-stone and dry-earth undertones. Full-bodied with soft, polished tannins and a long, creamy-textured finish. It's polished, yet concentrated. Better after 2022, but already very seductive."05/20
Points, Bruce Sanderson, Wine Spectator: "A taut, densely wrought red, with black currant, black cherry, iron, wild herb and spice flavors matched to the elegant frame and restrained character. Balanced and long, this has a distinctly Old World feel and looks set to unravel its complex facets slowly. Terrific length. Cabernet Sauvignon and Cabernet Franc. Best from 2022 through 2043. 25,000 cases made, 4,000 cases imported." 08/20
The 2017 Sassicaia is a fascinating wine that symbolizes a never-ending tug-of-war between vintner and vintage. The question is who comes out on top? In this case, my money is on the vintner. The 2017 vintage, characterized by scorching heat and drought across much of Italy, was not an easy one. However, vintners had ample time to prepare because those climatic challenges had already played out midway through the summer season. Vintners with experience such as that amassed at Tenuta San Guido (now on the eve of Sassicaia's 50th birthday celebration) knew exactly how to handle the tricky 2017 growing season. Fruit was harvested early to avoid any jammy sensations, and a strict selection process was employed in order to preserve the best clusters. This Sassicaia represents 83% Cabernet Sauvignon and 17% Cabernet Franc, with most of the fruit coming from the Tenuta's historic vineyards Castiglioncello, Quercione and Doccino. These plots are all located on the back hill of Bolgheri at slightly higher elevations where they enjoy cooler nighttime temperatures. Old vines also have a deeper root system that is key to braving dry and hot summers. You can absolutely taste those choices here thanks to the wine's aromatic profile that offers more variety-driven green highlights of wild berry, forest floor and bramble than I would have expected. With time, as the wine takes on more air in the glass, you get a hint of summer plum or cherry cough drop, and this, to my surprise, is the only subtle reminder of the hot vintage encountered. I found the aromas here to be authentically "Tuscan" in character, more so than other vintages, with balsamic and Mediterranean elements that borrow directly from the Sangiovese playbook. I left the wine in my glass over the course of a day, checking back periodically, to find a growing mineral profile of rust or metal that recalls the high concentration of iron and manganese found in these Bolgheri soils. Another vintage-specific adjustment made in 2017 was shorter overall maceration times in steel tanks (from 10 to 12 days for the Cabernet Sauvignon and eight to 10 days for the Cabernet Franc). However, pump-overs and délestages were almost doubled in order to introduce more oxygen to the yeasts during fermentations at lower temperatures. Based on my understanding of fermentation kinetics, this means the 2017 Sassicaia would have achieved the same amount of extraction in about half the time. This process champions the cool-temperature fermentations that are a hallmark of Tenuta San Guido, despite the heat of the vintage. This puts more emphasis on aromatic elegance and minerality, rather than mouthfeel texture or creaminess per se. In fact, the 2017 Sassicaia is much shorter in the mid-palate compared to 2015 or 2016. In terms of oak, Tenuta San Guido takes advantage of the softer tannins found in Allier and Tronçais oak. The 2017 vintage saw a greater percentage (from 20% to 30%) of third and fourth passage barrique during the first 10 months of aging. The decision to use more neutral oak favors the reduction of oxygen and softens the tannic profile. Although the wine does end with a hint of bitterness, it took on noticeably more volume and soft richness the longer I kept my sample in the glass.