Tenuta di Trinoro Rosso Toscana 2009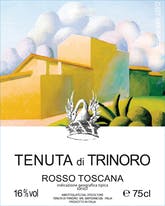 $400.00
Save $151.00 (37%)
$249.00
SKU 04838
750ml
Merlots picked in October instead of September, Cabernets at the end, instead of the middle, of the month; rainless storms ruhe second vintage thaten a rest during 08 anward. Seeing the fertilies' canopy hoping thatt happened and in Seergy and resumed gat mbling aver the unyielding green of the vines; rich wines, packed with salts: this is t has passed leaving us at Trinoro with a feeling of the tropics. The vineyards had tak d though they were coming very green from the rainy winter, they where leaping for ty and forecasting a blazing summer (which then came) I cut very much down the vin some of the water in the berries would be absorbed to fight the heat's stress; tha ptember the plants had also lost their deeper green -¬‐ but they still had lots of en hering water. At picking I found that cases were coming in the cellar weighing much heavier than what would have built our average of 3.4 tons per hectare, and that led to the second important step taken during this vintage: opening the valve under every tank we filled and bleeding it for 20% of its weight. In 2009, tough very nourished, each of our varietals would eventually slowly ripen. The rains let us wait long enough to pick them: that always makes a great vintage. Afterwards I found that I had an impressive spectrum of great, ripe wines of Merlot, Cabernet Franc, Cabernet Sauvignon and Petit Verdot, each one replicated in several different pickings, to choose from. It took longer than usual to select and discard the barrels because so many of them were good; then I mixed. This is one of the best wines ever made at Trinoro.
Wine AdvocateThe estate's 2009 Tenuta di Trinoro presents exotic notes of wild cherries, plums, spices, minerals and licorice all of which come together on a silky, polished frame. Smoke, incense and a host of other seductive, beguiling aromas and flavors add complexity as they wrap around the seriously intense finish. The 2009 Tenuta shows off marvelous intensity and a full-throttle personality while retaining a touch more freshness than is sometimes the case. In 2009 the Tenuta is 42% Merlot, 42% Cabernet Franc, 12%, Cabernet Sauvignon and 4% Petit Verdot. Anticipated maturity: 2017-2029.
Wine SpectatorWell-defined flavors of black cherry, black currant, raspberry, vanilla and chocolate mark this rich, dense and tannic red. Tight and compact on the finish, this will need time to hit its stride. Gains suppleness and length with air. Cabernet Franc, Merlot, Cabernet Sauvignon and Petit Verdot. Best from 2016 through 2025. 700 cases made.