Joseph Phelps Insignia 1990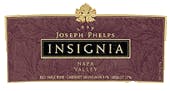 $299.00
Save $100.00 (33%)
$199.00
SKU 08698
750ml
80% Cabernet Sauvignon primarily from Banca Dorada Vineyard in the Rutherford Bench and Las Rocas Vineyard in the Stag's Leap District; 10% Las Rocas Merlot; 10% Banca Dorada Cabernet Franc. This is the first vintage that estate-grown grapes from Las Rocas and Banca Dorada have been blended together, and the wine has deep berry and blackcurrant aromas and flavors, soft tannins, and a long, lush finish.
Wine SpectatorStill unyielding at age 10. Firm, dark and intense, chunky and chewy, with gritty tannins wrapped around a core of stewed plum and black cherry, with dashes of mineral and sage. Turns dry and tannic, but offers lots of substance and depth.--California Cabernet retrospective. Best from 2002 through 2012.
Wine AdvocateAs a long-time follower and admirer of Joseph Phelps Cabernets, I have been extremely disappointed by vintages since 1987. In fact, the 1987s, which were so promising from the barrel, had absolutely no bouquets when they were released. They appeared to have been sterile filtered and/or excessively processed at bottling, removing much of the richness they had possessed in the barrel.