Joseph Phelps Insignia 1994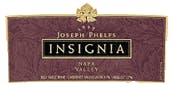 $329.00
Save $60.00 (18%)
$269.00
SKU 08543
750ml
In 1994, after a long, cool growing season, 65% of our crop was still hanging on the vine by October 4, when an unexpected thunderstorm swept through the Napa Valley. In its wake, a spell of warm weather dried out the vineyards and caused a rapid rise in grape sugars, and although more rain was forecast, a window of opportunity for harvesting presented itself during the week of October 9-15, when much of the crop achieved optimal ripeness. During this time we picked a total of 783 tons, or half our estimate for the entire harvest! Grape quality was excellent, and critics are citing the vintage as one of the best in the last twenty years.
Wine AdvocateThe 1994 Insignia (a blend of 88% Cabernet Sauvignon, 10% Merlot, and 2% Cabernet Franc) is spectacular. I have had the wine a half-dozen or more times, and it is unquestionably opulent, sexy, flamboyant, explosively rich, concentrated, and a thrill to drink. Already gorgeous, it promises to evolve gracefully for two decades or more. The color is a healthy saturated dark purple. The spicy nose offers aromas of black currants, allspice, pain grille, and soy, with scents of a burning wood fire thrown in for additional complexity. This full-bodied, opulent, dazzling wine is exhilarating to drink.
Wine SpectatorA tremendous wine that combines dark, rich, deeply concentrated flavors with a sense of grace and finesse. This is still a bold, potent youngster, with a wealth of currant, mocha, anise and sage flavors. The tannins are big, too, but they're ripe and they let the rich flavors push through.--California Cabernet '74/'84/'94 retrospective. Drink now through 2010.