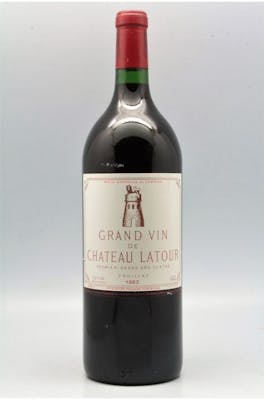 SKU: 08538
Chateau Latour Pauillac 1982
wa

100

v

100

d

100

jd

99

ws

99

js

98
---
$6,999.00
Save $2,705.00 (39%)
$4,294.00
---
A truly great vintage: the wines are highly colored, with an exceptionally complex nose (still a little closed), and a mouth that has everything : fruit, flesh, concentration, elegance, balance and harmony, and a long finish. It's a very big wine but its softness and richness makes it already accessible.
"As I indicated in the review of the 1982 Bordeaux, this is an unusual Latour in the fact that it has always been precocious. It has been jammy, forward, and delicious no matter when the cork was pulled, in total contrast to its two first-growth siblings, Mouton Rothschild and Lafite-Rothschild. The dense, opaque garnet-colored 1982 Latour reveals slight amber at the edge. Sweet, smoky, roasted aromas in the nose combine with jammy levels of black currant, cherry, and prune-like fruit. It possesses extraordinary concentration and unctuosity, with a thick, fat texture oozing notes of cedar wood, tobacco, coffee, and over-ripe fruit. Low acidity as well as high alcohol (for Bordeaux) give the wine even more glycerin and textural chewiness. The finish lasts forever. The only Latour that remotely resembles the 1982 is the 1961, which has a similar texture and succulence. Anticipated maturity: now-2040"
The 1982 Latour has always been a quintessential Bordeaux and a quintessential Latour. This is just as composed and detailed as the finest bottles that I have encountered, bridled with captivating blackberry, graphite and cedar aromas that are brilliantly focused. Perhaps it is not quite as showy as it was a few years ago, yet it is still regal and as blue-blooded as they come. The palate is ineffably graceful and chiselled down to the finest detail. One bottle at the International Business and Wine dinner is perhaps more understated than previous examples, but another in Hong Kong delivers such tension and precision that you can only kowtow before it. The 1982 is a masterful, regal Latour and probably now the finest Left Bank exponent of this vintage. Tasted at the International Business & Wine Latour dinner at Ten Trinity and at the Latour dinner in Hong Kong.
There are hints of brick orange around the outer edges, but this is still beautifully rich red at the core, and the warmth of the vintage's sunshine is clear from the first moment. At 34 years of age, the aromatics have almost torrefied, with beautiful burnt caramel notes oozing into rich plum and baked strawberry fruits. Gentle tannins are still holding the fruit unobtrusively but firmly in line. As the wine opens in the glass, the tobacco and cold woodsmoke become more evident, and each time you go back to the glass it gets more and more interesting, extending the conversation and keeping it new. Bursting with life.
he 1982 Chateau Latour is another powerful 1982 that's drinking beautifully today and has a big, sweet nose of blackcurrants, saddle leather, cedar, and Asian spices that just comes jumping out of the glass. Deep, concentrated, and powerful, it takes 30 minutes in the glass to open up on the palate and still has ripe, polished tannins, thrilling length, and an impeccably balanced, layered personality. Again, it's drinking fabulous well today, yet I suspect, given the wealth of fruit, it has another 2-3 decades of prime drinking ahead and will have a gradual decline.
This shows wonderful decadence with meaty, dark chocolate and ripe plums on the nose that follows through on the palate. It's full bodied, with super silky tannins that caress your palate. The fruit in the wine changes to a spicy, stony undertone. It seems to evolve all the time in the glass. This has a long life to it. But why wait? So delicious.