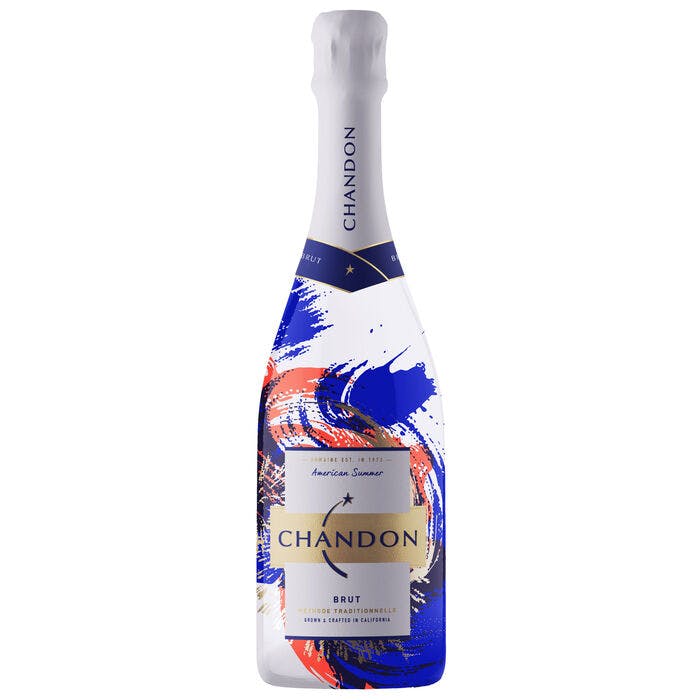 SKU: 08310
Chandon Limited Edition American Summer
---
$25.00
Save $5.12 (20%)
$19.88
---
"With its chic nautical red, white and blue design, this Domaine Chandon Brut Classic limited-edition bottle, inspired by the great 'All American Summer,' is the perfect way to sip in style. Classic balance typifies this refreshingly soft, yet dry wine. The wine delivers complex apple and pear characteristics accented by citrus spice over notes of almond and caramel in the bouquet." Winemaker's Notes
Domaine Chandon Description
Brut Classic consistently expresses our signature flavor profile of apple, pear and citrus flavors and aromas with a hint of spice that leads to a soft, dry finish. We recommend serving Brut Classic when eating salty, creamy, or nutty foods such as Caesar salad, fried calamari, oysters, or fresh sashimi and sushi.
Wine Enthusiast: 89 Points
A blend of 68% Chardonnay and 12% Pinot Noir from sundry Northern California sites, this is a dry, citrusy and easy-drinking sparkling wine, ideal for special get togethers or as an opener to the night. Fresh pear and citrus intermingle throughout bright acidity and a lingering finish.
Wine Spectator: 89 Points
A luscious style, with lemon and spiced apple aromas and rich flavors of sweet cream, yeast roll and toasted almond. Available only in magnum, which receives extended tirage beyond that of 750ml bottling of the same name. Drink now. 1,657 cases made.
Wine Advocate: 88 Points
This Domaine Chandon NV Brut is a blend of Chardonnay and Pinot Noir by using the traditional method. Backed by LVMH, the winery was built in 2013. Clean and fruity, it offers lovely notes of pineapple, red and yellow apple and citrus with a touch of biscuit and toast. Refreshing on the palate, it has a pleasant, fruity finish. Tasting date: Sept. 22, 2017. Alcohol level: 12.5%.