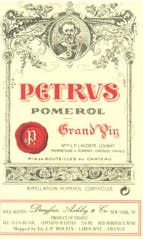 SKU: 08260
Chateau-Petrus Pomerol 1989
---
$5,599.00
Save $1,111.00 (19%)
$4,488.00
---
Bordeaux's most intensely concentrated, richly flavored and unique red wine. An incredible power, depth and richness yet a remarkable balance with penetrating aromas of ripe mulberry, black currant and fruit and spicy vanilla oak, setting it apart from all Bordeaux's finest wines.
I have always loved this wine. It?s a giant, yet also sophisticated and reserved. Still dark-ruby colored, with beautiful aromas of fruits and spices. Full-bodied, with opulent fruit and a depth of flavor that lasts for minutes on the palate. Loads of tobacco and fruit.--Pétrus non-blind vertical. Best after 2010.
Multi-millionaire collectors will have fun comparing the 1989 and 1990 Petrus. The 1989 has a slightly more saturated color, and seems more tightly knit both aromatically and on the palate. However, this is splitting hairs, as this is another stunningly opulent, rich, full-bodied, amazingly concentrated, exotic, flamboyant Petrus that remains remarkably youthful, and in need of 7-8 more years of bottle age. Additionally, the tannins are slightly more elevated, at least from a tactile impression. However, the 1989 looks to be another 30-year wine, with extraordinary equilibrium between all of its component parts. An amazing effort!