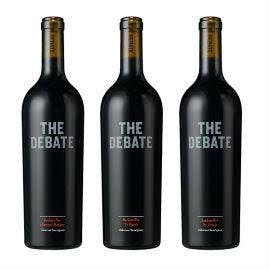 SKU: 07790
The Debate Three Vineyard Collection 3 Pack 2016
---
$599.00
Save $44.00 (7%)
$555.00
---
TO KALON WA 92+, DR. CRANE WA 95+, MISSOURI HOPPER WA 95+
Beckstoffer's TO KALON 2014
Nestled at the edge of the Mayacamas Mountains in the center of Napa Valley, To Kalon receives just a touch of morning fog and full day sun to produce Cabernet Sauvignon grapes with complex layers.
Varietal: 100% Cabernet Sauvignon
Fermentation: 100% barrel fermentation
23 months 100% French Oak; 70% New
Case Production: 200
"From the famous Beckstoffer To Kalon Vineyard, the 2014 Cabernet Sauvignon Beckstoffer To Kalon is another relatively hefty wine at 15.1%. It is very backward for a 2014, and in many ways, just as tannic and structured as its 2013 counterpart. Dense black currant fruit intermixed with hints of camphor, blackberry and unsmoked cigar tobacco are present in this wine, which is not really a blockbuster, but rather an elegant take on the To Kalon Vineyard. Give it 3-4 years of cellaring and drink it over the following 25 years."
Robert Parker 92+
Beckstoffer's DR. CRANE 2014
Dr. Crane is situated on the west side of St Helena which has gravelly loamy soils and a very warm climate. Of all the sites, Dr. Crane is the warmest, and has the most extracted style. Because of this the wine has a very rich and velvety palate with candied fruit on the finish.
Varietal: 100% Cabernet Sauvignon
Vineyards: 100% Beckstoffer Dr.Crane
Fermentation: 100% Barrel Fermented
23 months 100% French Oak 70% New
Case Production: 200
"The profound 2014 Cabernet Sauvignon Beckstoffer Dr. Crane Vineyard (15.1% alcohol) is another La Mission Haut Brion lookalike. Rich, with notes of charcoal embers, barbecue smoke, blueberry and blackberry liqueur, violets and a touch of wood spice, it is full-bodied, powerful, concentrated, layered and impressive. Drink it over the next 25-30 years."
Robert Parker 95+
Beckstoffer's MISSOURI HOPPER 2014
Missouri Hopper is a spectacular vineyard situated in the hourglass of the Napa Valley, which gives it a cooler climate than neighboring To Kalon Vineyard due to the influence of the bay.
Missouri Hopper yields Cabernet Sauvignon that has a balance of ripeness and power with finesse and elegance. We believe this is one of the most exceptional sites Napa Valley has to offer.
Varietal: 100% Cabernet Sauvignon
Vineyards: 100% Beckstoffer Missouri Hopper
Fermentation: 100% Barrel Fermented
23 months 100% French Oak 70% New
Case Production: 200
"The 2014 Cabernet Sauvignon Missouri Hopper Vineyard has an opaque purple color and a youthful blackberry and black raspberry-scented nose with some notes of lead pencil shavings, forest floor and tobacco leaf. It is full-bodied, rich in fruit, and incredibly youthful and backward for a 2014. A big boy at 15.2% finished alcohol, it would benefit from 2-4 years of bottle age. It is certainly capable of lasting 20 or more years.."
Robert Parker 95+