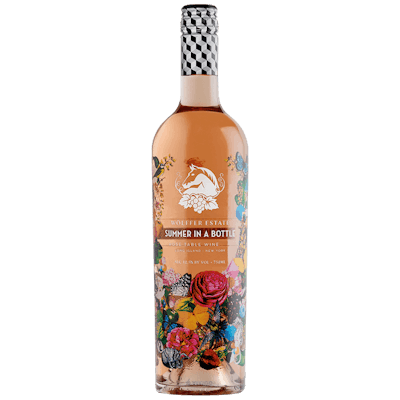 SKU: 07604
Wolffer Estate Summer in a Bottle Rosé 2021
---
---
Bright shiny copper in color. The aroma is elegant with fine clean fruit notes of pears and apples but with a luxurious ripeness. The mouth-feel is vibrant and has lovely spiciness and a rich texture with fine tannins. It is livened up by nice acidity and a classic minerality and salinity. This dry rosé is very savory and has a long finish with creamy yeast and delicate chalk notes. This may be the most food-friendly Summer in a Bottle to date and is certainly the perfect summer wine!
The 2021 Summer in a Bottle is a kitchen-sink blend of 50% Merlot, 15% Chardonnay, 13% Cabernet Sauvignon, 8.5% Cabernet Franc, plus some Riesling, Gewürztraminer, Pinot Meunier, Syrah and Sauvignon Blanc for the rest. It is all unoaked, very dry and comes in at 12.8% alcohol. This is not all that much different in general style than the regular Estate Rosé in this report, but that is a little more understated and a lot less expensive. Still, a lot of people will probably pay more just for that atmospheric label. This year, too, I'd say this is the better wine. This, most of all, is bolder in flavor, often the boldest of the winery's many pinks, but there's also more tension on the finish. It always remains very dry, never too fruity or even a little candied. It tastes great, but the fruit is lifted and the big finish is hard to resist. It seems very serious this year. It's another example of a fine pink performance from the winery in this tough year. This can probably hold well for a few years, but I'd always recommend drinking it when it is at its youthful and exuberant best. That's what it does best. There were 71,900 cases produced, plus some large-format bottles (up to a Jeroboam) and even a keg.

Are you 21 years old, or older?