Royal Oporto Tawny Port 10 year old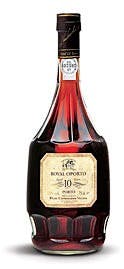 This Port is produced by skilful blending of wines that are matured for a minimum of 10 years in the timeless setting of Port wine. Slightly lighter colour. Long and persistent nose, creamy and minty, choice and good. This is an excellent example of the smooth velvety wine that is 10 years at its best.
Wine EnthusiastWhile it is quite dark in color, this wine still has plenty of good, 10-Year Oldfresh fruit flavors. Perfumed and delicate, it has light sweetness and a good layer of fruit and wood acidity, leaving a dry aftertaste. Its quality is an indication of the impressive improvements that have occurred at Royal Oporto in recent years.
Wine SpectatorWell-aged, with almond, fruitcake and caramel aromas and flavors. Full-bodied, sweet and lively, with orange peel, nuts and dried fruits on the finish. Excellent. This is the best tawny I have ever had from here.